In this post you can find how to change the date frequency of date x-axis labels in Matplotlib and Python.
We are going to see the default behaviour and the changed date frequency.
So default behaviour of the Matplotlib and bar plot depends highly on the data that you have.
In this example we will use data for Bitcoin price from it's start. You can find the data below:
| Symbol | Date | High | Low | Open |
| --- | --- | --- | --- | --- |
| BTC | 2013-04-29 23:59:59 | 147.488007 | 134.000000 | 134.444000 |
| BTC | 2013-04-30 23:59:59 | 146.929993 | 134.050003 | 144.000000 |
| BTC | 2013-05-01 23:59:59 | 139.889999 | 107.720001 | 139.000000 |
| BTC | 2013-05-02 23:59:59 | 125.599998 | 92.281898 | 116.379997 |
| BTC | 2013-05-03 23:59:59 | 108.127998 | 79.099998 | 106.250000 |
We can plot the price for each date with bar plot by method: plt.bar:
import pandas as pd
import matplotlib.pyplot as plt
import matplotlib.dates as mdates

df = pd.read_csv('../../data/coin_Bitcoin.csv')

df['Date'] = pd.to_datetime(df['Date'])

plt.bar(df['Date'], df['High'])

result: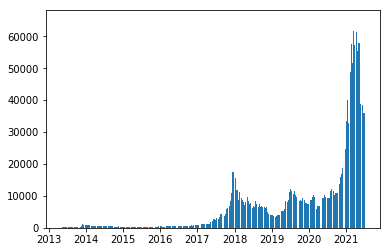 If you like to get a bigger plot and different x axis frequency you can use the code below. Date interval frequency is set to 120:
plt.figure(figsize=(20,8))
plt.gca().xaxis.set_major_formatter(mdates.DateFormatter('%d-%m-%Y'))
plt.gca().xaxis.set_major_locator(mdates.DayLocator())

plt.gca().xaxis.set_major_locator(mdates.DayLocator(interval=120))
plt.gcf().autofmt_xdate()

plt.bar(df['Date'], df['High'])

plt.xticks(rotation=90)

plt.show()

result: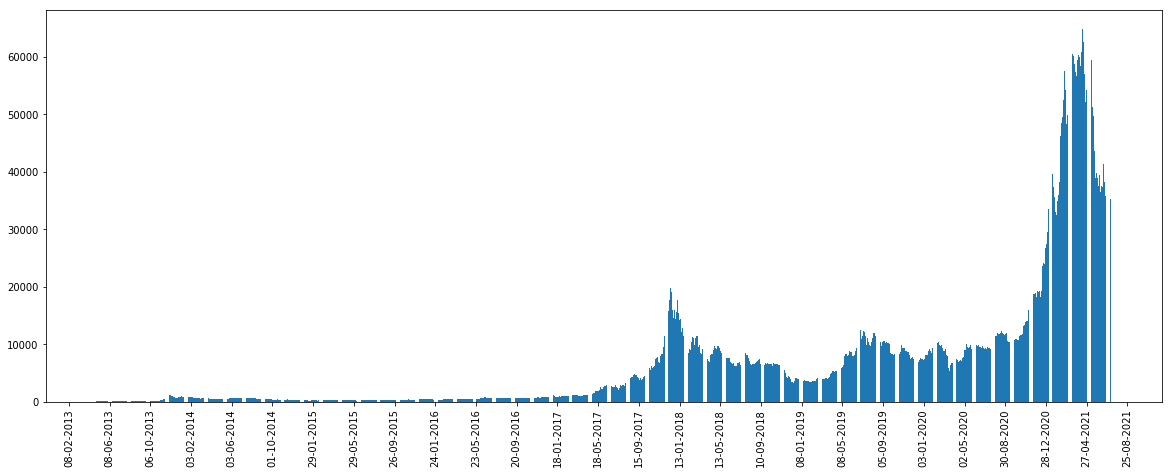 And testing with frequency 60:
plt.figure(figsize=(20,8))
plt.gca().xaxis.set_major_formatter(mdates.DateFormatter('%d-%m-%Y'))
plt.gca().xaxis.set_major_locator(mdates.DayLocator())

plt.gca().xaxis.set_major_locator(mdates.DayLocator(interval=60))
plt.gcf().autofmt_xdate()

plt.bar(df['Date'], df['High'])

plt.xticks(rotation=90)

plt.show()

this will result in a ticker date labels on the x-axis: